BWAHAHAHAHAHAHA Bricklayer Bosh fans!
First of all, we want to THANK YOU SO MUCH for taking the time to vote for our future as a tribe together!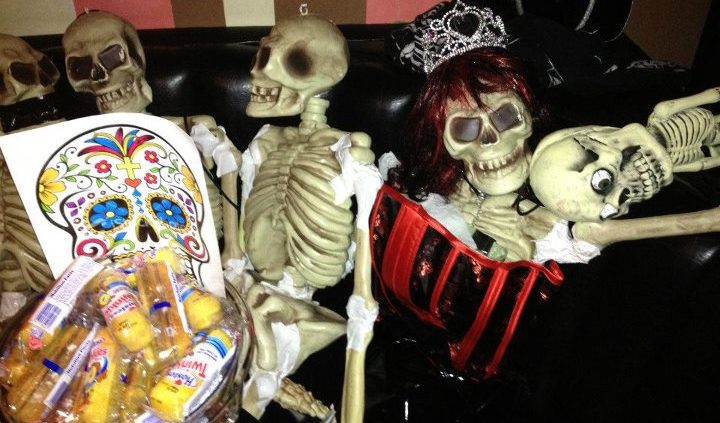 In this issue of SPOOKSletter3000!:
1. Tribe Name Vote Results
2. Special Gift Offer
1. Tribe Name Vote Results
Votes were cast across our Twitter, Instagram, and Facebook pages for the future of our Bricklayer Bosh Tribe: In this new PC world, do we move forward together as Horror Whores or the Skeleton Crew? Tatum and I never WANT to offend anyone, especially those that like our music, and we certainly don't want to turn anyone off to our music simply because we call them a Horror Whore. So much has changed since we first started as Horror Whores back in 2011 (and Tatum & I have been [more] dead for 6 years, only being reanimated in 2020) - we just wanted to ask what YOU prefer better these days! (Because after not being [as] dead anymore after 6 years and being lost in space, it's like Where the fuck ARE we?!)
SO thank you so much for voting! - We really needed YOUR opinion!
The vote was SO CLOSE! 
It was SOOO CLOSE!!!
Winning by only ONE vote, our tribe now moves forward together as...
The Skeleton Crew!
We are excited and feel ever so slightly more in alignment as the Skeleton Crew (since Tatum is a skeleton and Bosh Bonesy was "The Empress Skeleton" from 2011-2014, and the name Bonesy does imply skeleton!) We are EXCITED to rock our skeleton/ x-ray clothing with even deeper meaning now <3
From this moment forward, Bricklayer Bosh fans come together as the Skeleton Crew!
For those of you that voted Horror Whore: we are bummed to see the name get out-voted too, since it has been with us from the early days of our Halloween Electro-punk adventures. However, to cheer you up, we have a gift we would like to send to you - so that we can always remember our time as Horror Whores together <3 (See Special Gift Offer below.)
The Horror Whore name is not completely going away - We are thinking of a way for us to still come together as Horror Whores since the vote was pretty much 50/50.
Any suggestions? We welcome your ideas! Send us an email titled Horror Whores to FrightNights@bricklayerbosh.com - we can brainstorm something fun together!
2. Special Gift Offer
For those of you that voted Horror Whore, we have a special gift we'd like to send to you while Tatum and I develop something new for all of us as the Skeleton Crew.
We have Horror Whore stickers that need a good home and since our tribe name has now switched to the Skeleton Crew, we will not be making these stickers anymore. 
We would like to send you a free Horror Whore sticker bundle if you follow these instructions!
1. Use this link to access our Contact form (this is also the same form on our website Contact page):
2. In the message box, type Horror Whore and provide the best address to mail your stickers to you.
3. Click the "Submit" button and Tatum and I will send you your stickers! <3 

Our free gift to you for your wonderful dedication is available as long as stickers last!
Thank you so much again for being part of the Bricklayer Bosh Tribe! Tatum and I are grateful for you and we look forward to connecting with you in exciting upcoming ways - and we can't wait to present new music to you!
Scare you soon, Skeleton Crew! <3
Bonesy & Tatum E.K.